Besuche die offizielle Boutique von Birds of Love in Aarburg und entdecke die aktuelle Kollektion.
Unsere neue limitierte und exklusive Haute Couture-Kollektion kann nur in unserem Shop gekauft werden!

Besuchszeit bitte vereinbaren unter Tel. +41796218629
Wir freuen uns auf Dich!

SHOWROOM & LIEFERADRESSE
Beschriftung Beratung GmbH
Birds of Love Fashion
Weberstrasse 11, Gebäude G / 3 OG.
CH-4663 Aarburg

Schweiz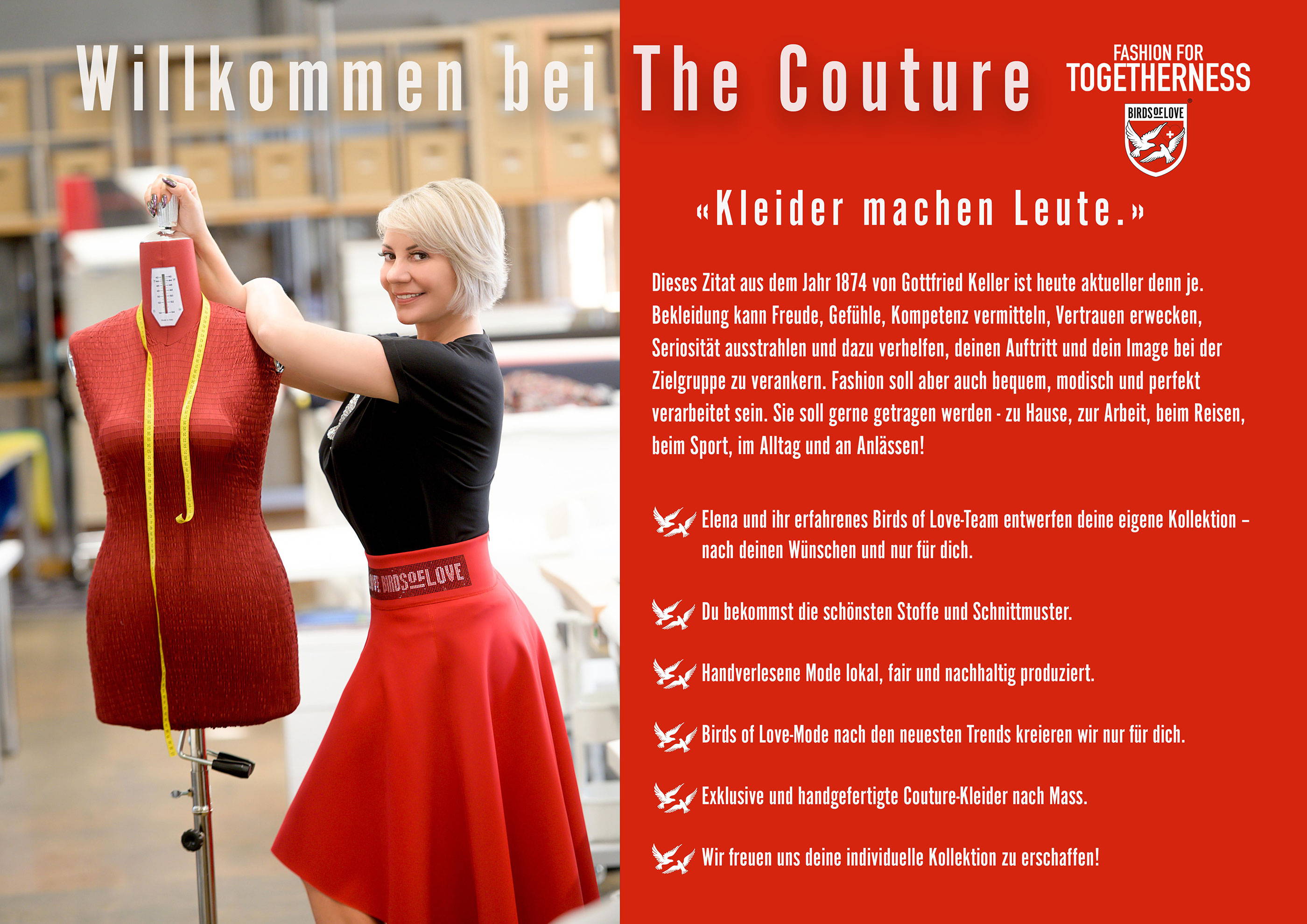 «Kleider machen Leute.»
Dieses Zitat aus dem Jahr 1874 von Gottfried Keller ist heute aktueller denn je.
Bekleidung kann Freude, Gefühle, Kompetenz vermitteln, Vertrauen erwecken,Seriosität ausstrahlen und dazu verhelfen, deinen Auftritt und dein Image bei der Zielgruppe zu verankern. Fashion soll aber auch bequem, modisch und perfekt verarbeitet sein. Sie soll gerne getragen werden - zu Hause, zur Arbeit, beim Reisen, beim Sport, im Alltag und an Anlässen!
*Elena und ihr erfahrenes Birds of Love-Team entwerfen deine eigene Kollektion - nach deinen Wünschen und nur für dich.
* Du bekommst die schönsten Stoffe und Schnittmuster.
*Handverlesene Mode lokal, tair und nachhaltig produziert.
* Exklusive und handgefertigte Couture-Kleider nach Mass.
* Wir freuen uns deine individuelle Kollektion zu erschaffen!